Types PAS, PAR
Recirculation pumps with direct driver and with reducer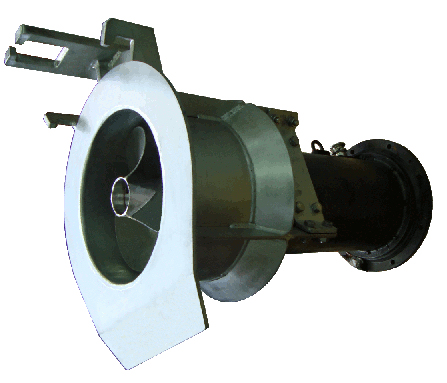 OVERWIEV
These machines use to appear in literature sometimes as "pumping mixers" and elsewhere as "recirculation pumps". Both give a good idea about its nature. Design concept is very same as in case of submersible mixers however in terms of application recirculation pumps are complementary with traditional wet pumps. Recirculation pumps are usually used whenever there is a demand for efficient pumping of considerably large volume at relatively low head. Pressure produced by recirculation pumps, in contrast to traditional wet pumps, is not high. On the other hand its big advantage lays in a big range of capacity. This kind of equipment works much better than wet pumps with different kind of heavy mediums, as well.
Range of recirculation pumps produced by Aspamet is divided into two groups: pumps with direct drive, type PAS and pumps with gear drive, type PAR. All models are prepared connection with pipeline and on this purpose, equipped with connecting flange made of stainless steel. In order to protect against return flow of pumped water we can also install non-return valves, according to particular pipeline requirements.
DESIGNATION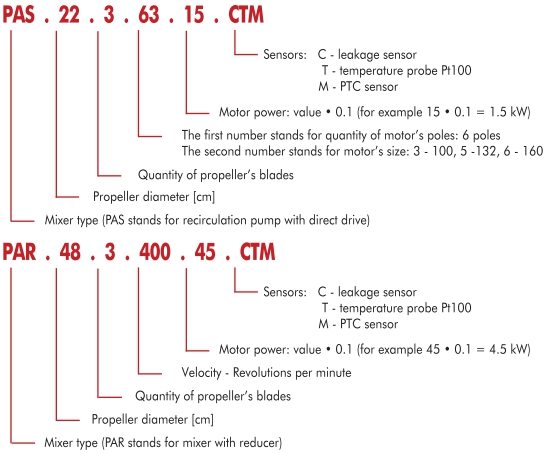 SIZES
Pumping mixer are featured with propellers of diameters from 220 mm up to 800 mm, power from 1,1 kW to 18,5 kW, capacities from 0,02 m3/s to 1,0 m3/s and total head up to 1,8 m. There are two versions of pumping mixers: PAS (with direct drive) and PAR (with gear drive).
FEATURES OF STANDARD VERSION OF RECIRCULATION PUMPS OF TYPES PAS, PAR
Propeller's geometry guarantees maximum efficiency while maintaining energy consumption on low level; self-cleaning design, special shape of blades prevents solid particles from settling down;
Propellers entirely made as one-piece stainless steel cast; casting technology Allowi to produce propellers featured with diversified thickness of blades, this feature improves generated thrust significantly; propellers are available in two versions: with two or three blades;
Two independent leakage sensors located In motor chamber and cable terminal case; due to its arrangement sensors guarantees detection of even smallest quantities of liqui d; related electronic modules allows to switch off a mixer immediately;
Three bimetal thermo-contacts, located at each of motor's phases; contacts stop the motor if temperature limit of 145 Celsius degreesis exceeded; Winding of the motor covered with double insulation layer of class F;
Electronic module cooperating with leakage and temperature sensors; purposed for installation within control cabinets located around mixers. Each electronic module is composed of controller and power feeder. Electronic modules collect signals from sensors and send appropriate information to central control system;
Mixer's body and covers made of grey cast iron, covered with multilayer, double component epoxy coating; strong resistance against corrosion;
Double mechanical SiC/SiC seal, located in buffer chamber filled with oil; effectively protects mixer against leakage from the front side;
Labyrinth and lip seals protect the double mechanical seal against bad impact caused by solid particles; significantly improve mixer's life-span and malfunction-free period; additional seals between reducer and motor's body;
All static connections sealed by means of O-rings packs, additionally assured with Loctite sealant;
Power cable of 10 m length, made of special materials, capable for long operation in submersion, even in aggressive environment;
Cable gland providing total leak tightness and securing the cable against being accidentally pulled out;
Solid design guarantees high mechanical durability and long-term, malfunction free exploitation under any conditions;
Connection flange made of stainless steel, for easy assembly to pipeline;
AVAILABLE OPTIONS OF MIXERS TYPE PAS, PAR
Mixer's body and co vers as one-piece casts made of stainless or acid-proof cast steel, perfect for operation in particularly aggressive and harsh environment as well as for every application where the highest quality is required;
Propellers made as one-piece acid-proof steel casts;
Outer layer made of paint with ceramic additions, having strong wear resistance;
Additional temperature probe Pt100 located at one of stator's phases, purposed for reading current value of motor's wirings temperature;
Additional PTC sensors, providing the same functionality as thermo-contacts;
Motors with insulation of class H;
Control cabinet for installation around mixer, composed of control and Power elements; it can be used both for manual mixer's control and for acting as a part of central control system;